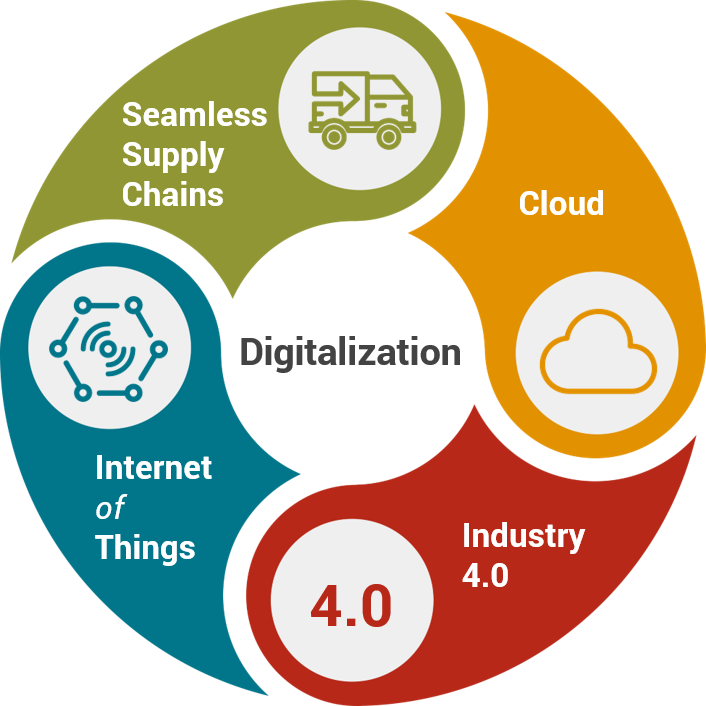 Articles
How to Reach Datadriven Supply Chains
13 June 2017
Today, top management teams are talking about digitalization of supply chains end-to-end, using old as well as new technology and methodology like Internet of Things (IoT), big data technology and industry/process standardization and automation. It is all about getting the supply chain connected.
It's to a large extent about a skill shift, again, and this time from innovation economy to digitalization, with the aim of turning data into knowledge. For companies ahead of the curve, a huge advantage can be realized when you get it right.
The Power of Change
Most companies are mature enough in their supply planning to address this challenge, and yet we can see many companies still focused on big ERP projects and prioritizing "within their four walls" improvement projects. Moreover, the vast majority of enterprise systems are still organized around optimizing its own operations and the goods and services it provides, instead of the constituencies it serves and the problems it solves (i.e. true drivers of demand).
However, a change is gonna come. The future supply chains will be data driven, driven by the fact that they are connected. The more data that becomes available, and the more processes that becomes digital, the more data is shared and the more knowledge becomes available. Knowledge in terms of understanding e.g. consumption trends, geographical changes, short and long term needs and risks. We can see several important trends affecting the speed at which the change is coming, illustrated below.
Source: PipeChain Group AB
 Technology is just one part of the equation
Usually, a lot of focus is spent on technology as the enabler of connecting supply chains. Long-term, technology will probably play an important role in creating speed of digitalization. However, a much faster path in current market situation, given current ERP system environment and other preconditions and challenges, should be built on the following critical success factors:
Source: PipeChain Group AB
A scalable and flexible technical platform, enabling efficient and fast connection of trading partners is critical, of course. But working on the technological preconditions only, will not help you in reaching your goals. You need to have the right organizational skills and set-up to handle the connectivity projects and the processes they relate to.
But this isn't enough. You also need the power to change and the power to convince. This can be achieved in at least two obvious ways. Either you are driving the change together with other players as an industry standard initiative. We can see these kind of efforts in supply chain management today, and we have seen them in many other business areas where big changes have been achieved. The other possibility is to drive the change from a position as a supply chain gorilla, where change typically comes from the "gorilla's" strategic goals.
Even if you have the technology in place, the organizational set-up and skills required and the power to change, you still need a fourth critical factor to succeed – Aspiration, or Top Management's Support. Top management needs to see the wider perspective of supply chain connectivity and the substantial value it will bring to the company and the supply chain/s it is an integrated part of. When all four of these critical factors are in place, the probability of success is very high.
Where are we now?
According to MHI's 2017 annual survey on next generation supply chains, 80% of respondents believe that the digital supply chain will be the predominate model within the next five years—with just 16% saying it's happening today. Similarly, a 2016 survey from Capgemini found that 50% of those surveyed see "digital transformation" as "very important," yet only 5% were very satisfied with their progress toward it.
Clearly, digitalization will change supply chains, but our understanding of how it will play out is a work in progress.
A lot remains to be connected, a lot
All preconditions above need to be fulfilled to succeed, but there is one area where most companies fail. It's about systems integration and supply chain connectivity. Looking at the supply chain B2B integration (typically the forecast-to-invoice process) specifically, the level of digitalization is much lower compared to the general business digitalization. According to a Stanford Global Supply Chain Management Forum study from June 2013, only 7-10 percent of the 75 companies (from North America, EMEA, ASPAC) covered by the study exchange transactions electronically with 81-100 percent of their customers, suppliers or other business partners. Since then, little has changed.
Connected supply chains is a prerequisite for the B2B segment to become fully digitalized. Low level of connectivity means low level of seamless flows, low level of benefits from Industry 4.0, low level of benefits from IoT and no use of the limted level of supply chain visibility that the low level of connectivity provides.
Therefore, it is a very positive thing that most top executives we meet today, put the strategic spotlight on supply chain digitalization.